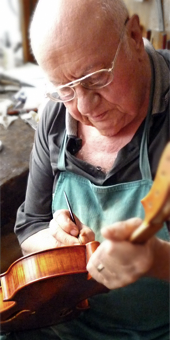 Wilhelm Brückner (master violinmaker)
Born in 1932 in Erfurt, I originally wanted to become a forester, but started being apprenticed to master violinmaker Willi Dölling in Markneukirchen at the age of 15. The working style there was accurately, but first and foremost fast. After my journeyman's examination in 1951, I worked for master violinmaker Willi Lindörfer in Weimar. Work pace was irrelevant to him, rather quality of new instruments and especially of restorations had absolute priority.
In 1956, I passed my examination for the master craftsman's diploma in violin making. I have been working free-lance respective self-employed since 1960. In the beginning I mainly was involved with restoration and repairs. In 1972 I won the gold medal at the polish violin making contest "Henryk Wieniawski". Thereupon I dedicated myself more and more to the the construction of new bowed stringed instruments, especially violas. Making new violas still is my burning passion.
I am a member of the German Violinmakers Association and the International Viola Society.
On the occasion of my 80th birthday, the author Stefan Sethe published the book "Violinmaking in the reflection of time – the Erfurt violinmaker family Brückner is bringing wood to life since five generations" in German. The shortened, slightly altered special edition can be found here as festschrift.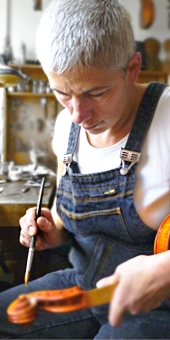 Ruth Brückner (master violinmaker)
I was born in Erfurt in 1962 growing up among violins, violas and cellos.
At the age of 7 I began playing violin, but later switched to viola because its sound and character are more suitable to mine. Almost I would have begun studying, but decided to become a violinmaker after the Abitur certificate. Unfortunately, it was not possible to me to be apprenticed to a master violinmaker in Markneukirchen, so I was apprenticed to my father in 1983, passed my journeyman's exam and later the master's examinations in Markneukirchen in 1990.
Since then I have been working together with my father in our shared workshop. In addition to repairs and restorations, I principially dedicate myself to the construction of new violas in all sizes and meanwhile according to plans of my own model.
Of course I still play viola, now in the Academic Orchestra Erfurt. I am also a member of the German Violinmakers Association, the National Association of Artisans and the International Viola Society.