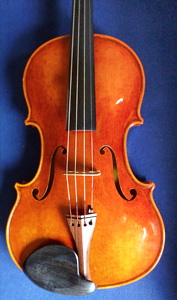 Both Wilhelm and Ruth Brückner have an abiding love for the viola. Both made a viola for their master's exam and both work, for the most part, with the models they have developed in the many years of expierience. This model has a very wide breast and lower section in comparison with other models.
Already 1960, Wilhelm Brückner started first experiments to obtain a richer, more beautiful and very adaptable viola sound. At first the instruments became wider in the lower section only, later in the breast, too. The position of the bassbar and the soundpost as well as the rib height have been changed and also the width of the bridge has been adapted. Around 1972, the so-called "Urmutter" had been built, a viola, that had been played by Professor Alfred Lipka, Berlin, since 1975. Now this viola is in possession of Sophia Reuter, the viola player of the German State Opera, Berlin.
Brückner violas "produce a characteristical dark sound on the C string, the G and D strings have more of a baritone sense to them whereas the A string is characterized through a sparkling Tenor Quality." (Prof. Lipka). They are built in different types and variable length of the body, but are very easily playable in every size. Brückner violas have high carrying power and a good ease of resonance, are open, flexible and beautiful sounding.
The model has been and will be improved and refined steadily. Each instrument is made extremely accurately of selected, very old woods and is, not least, distingtively by its varnishing and its respective unique character.